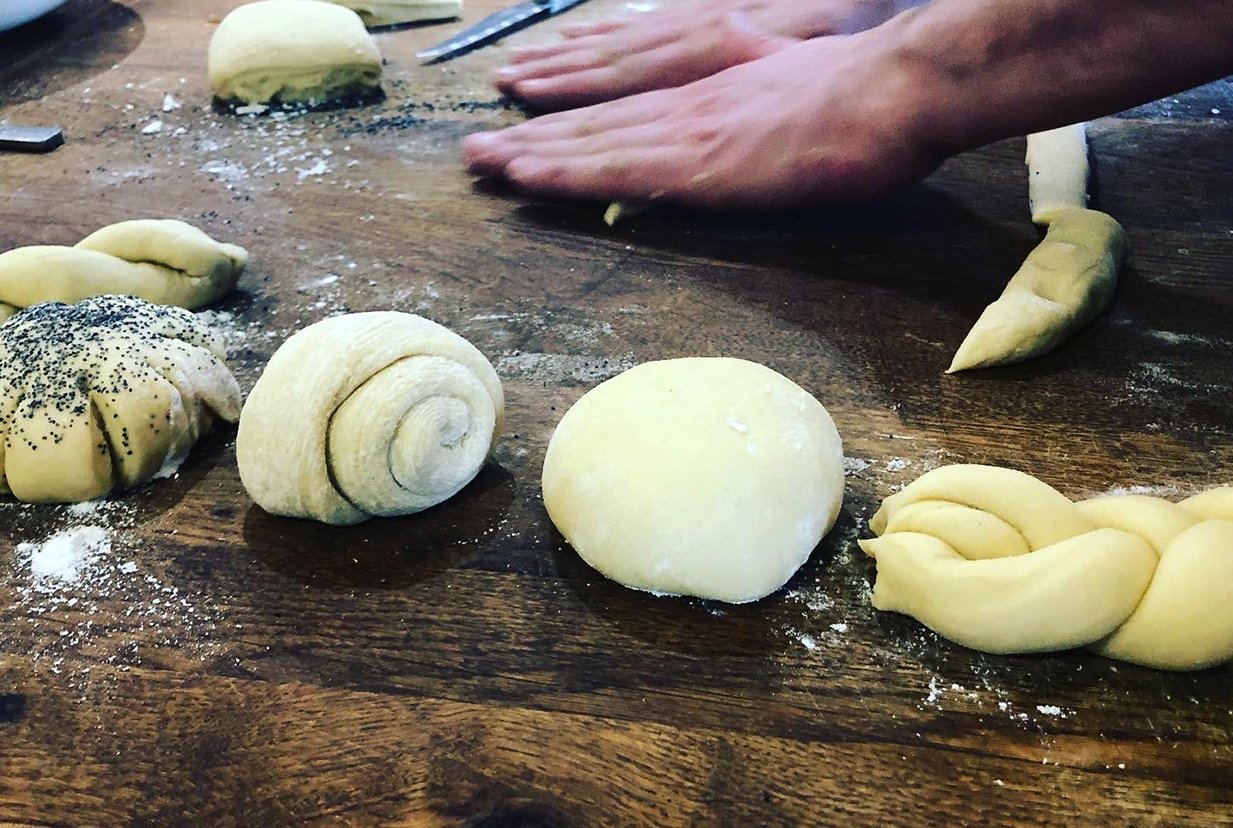 Are you looking for a way to spice up your next sales conference? Is your team at work falling apart? Or perhaps you just want your Christmas party with a difference this year?
Our Corporate Team Building Events are great way to help to gel teams together. Competing with each other, you and your colleagues will learn how to and then produce a three-course fine dining lunch or dinner. Your planning, communication and timing skills will be tested to their limits and lets hope your team will not win washing dishes (just joking!) and the sack of potatoes for the most, shall we say, 'interestingly constructed creation'.
We will build the event around your needs and can cater for groups as little as five people to 50+. We can offer a wide selection of menus and themes such as bread or pastry making, Spanish tapas, Thai, Indian or Slovakian if you like. We are happy to adapt the ingredients to cater for vegetarians, vegans or any allergies and all our meat and fish is sourced from the award-winning Uptons of Bassett butchers.
After seeing and tasting the fruits of the teams' labour our teachers will provide constructive feedback to all. The best meal will be awarded with a bottle of champagne or a prize of your choice.
What will you get?
All ingredients provided
Cookery tuition by experienced chefs and/or cookery teachers
Meals accompanied by selected wines (also provided)
Prize for the worst and best creation
Each participant will receive recipe pack and voucher with 10% off for any cookery course at Uptons butchers.
Location & cost
Cookery workshops start from £99 per person for a three to four hour session including the meal and wine with all ingredients provided. We can offer discounts for larger groups. We can also help you to find suitable venues around South East England and London. For venues further than 30 miles from Southampton, we will charge a small fee for transportation cost.
Would you like to become a butcher in a day?
We have introduced new Butchery and Cookery workshops where award-winning Uptons of Bassett butchers will present a technical butchery demonstration giving each participant a chance to try hands-on de-boning and rolling of meat, filleting of fish and/or preparation of shellfish. Afterwards the participants will cook and compete to make the most delicious meal for their team.
Do you have a smaller appetite?
Cook your two course meal instead for £89 pp and we will prepare for you a delicious savoury or sweet platter as your third course.
If you choose to cook your own starter we will make you a selection of Petit Fours for your desert.
If you prefer making your desert, we will prepare for you a platter with hams/olives/home made focaccias and other tasty bits and bobs.
One hour cookery in a board room
If you like something cheap & skillful we could come to your office and do a session on Knife Skills & Sushi, Pasta making or Fish filleting in your lunch time hour as we did for GE Aviation in Chandlers Ford.
Prices start from £30pp including all ingredients & equipment.