Serves: makes one medium loaf
Time: 10 minutes, overnight fermenting, 2,5hours proving, 45 min baking mins
Difficulty: Easy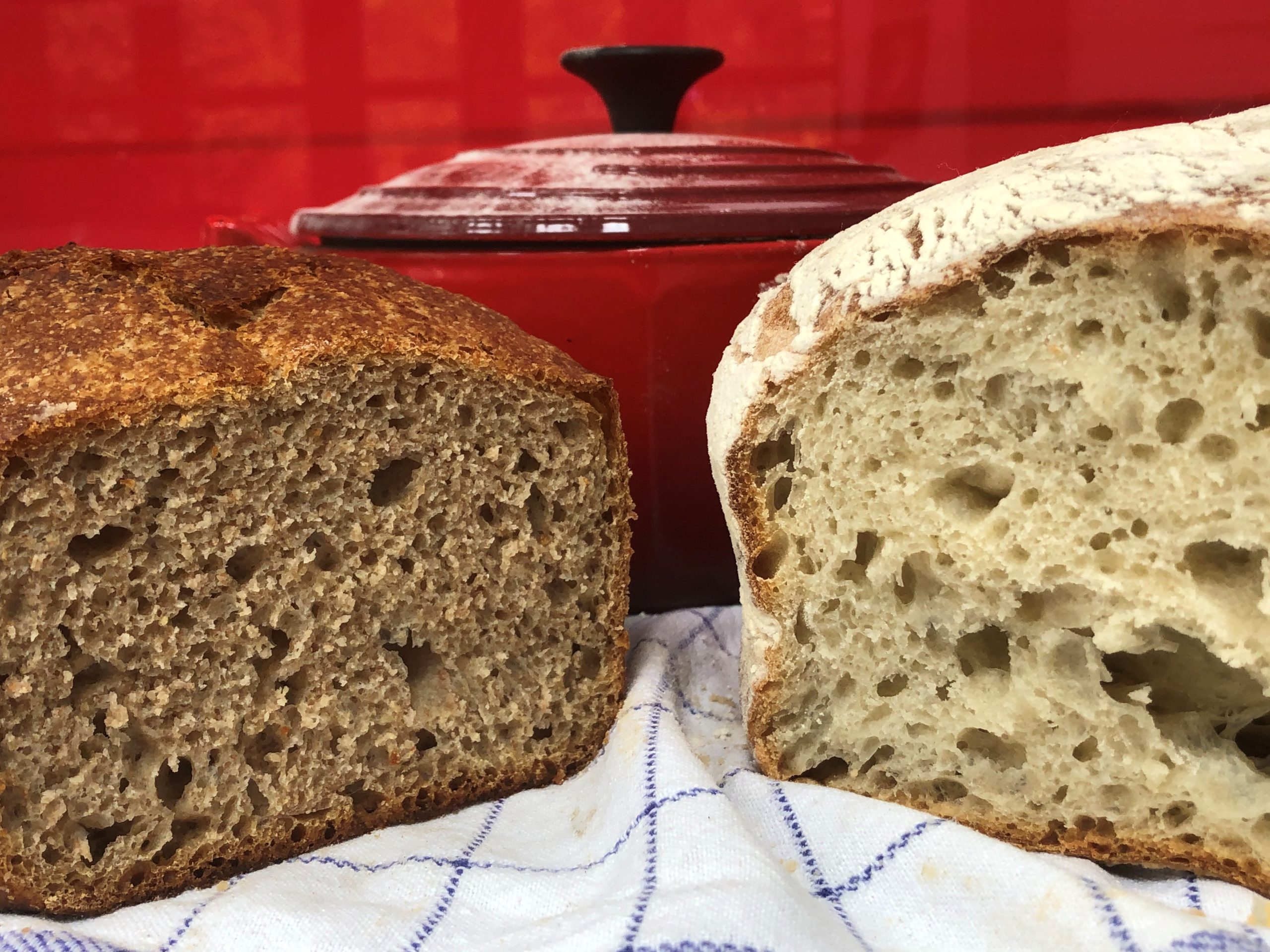 Ingredients
450g white strong flour
1 gram yeast (tip of a teaspoon)
8 grams salt
350 grams water
Method
In a large bowl combine flour, yeast and salt. Add water and stir until blended; dough will be sticky. Cover bowl with cling film and leave to rest at least 12 hours, preferably about 18, at warm room temperature of 20 degrees. When the dough is dotted with bubbles it will be ready.
Lightly flour a work surface and take the dough out of the bowl; sprinkle it with a little more flour. Stretch the dough and fold it over twice. Cover loosely with plastic wrap and let rest about 15 minutes.
Using just enough flour to keep dough from sticking to work surface or to your fingers, gently and quickly shape dough into a ball. Generously coat a cotton towel with flour or cornmeal; put dough seam side down on towel and dust with more flour. Cover with another cotton towel and let rise for about 2 hours. When it is ready, dough will be more than double in size.
Preheat the oven to 230C.
Oil a heavy pot with lid (cast iron, le creuset or ceramic) and place it in the oven to heat it up.
Carefully move the dough into a pot, shake the pan so the dough sits there evenly. Cover the pan with lid and bake covered for 20 minutes. Remove the lid, turn the temperature down to 200C and finish baking for another 25-30 minutes till the bread is golden brown.
Leave to cool slightly and take out of the pan when cool enough to handle.
For slightly crunchy bottom and sides, put the bread back into the oven for few minutes.
Notes:
You can use variation of flours such as spelt, rye, wholemeal…
The darker loaf on the photo is mix of 225g of strong white four and 225g wholemeal spelt flour. Wholemeal bread is not going to rise the same as white so don't be alarmed its not ready.
If you don't want your loaf to be covered in flour you can also line the bowl with oiled cling film and leave it to rise there, then slide it in the hot pot.