Whole Stuffed Chicken with Spiced Spelt & Oranges
Serves: 5-6
Time: 90 mins
Difficulty: Medium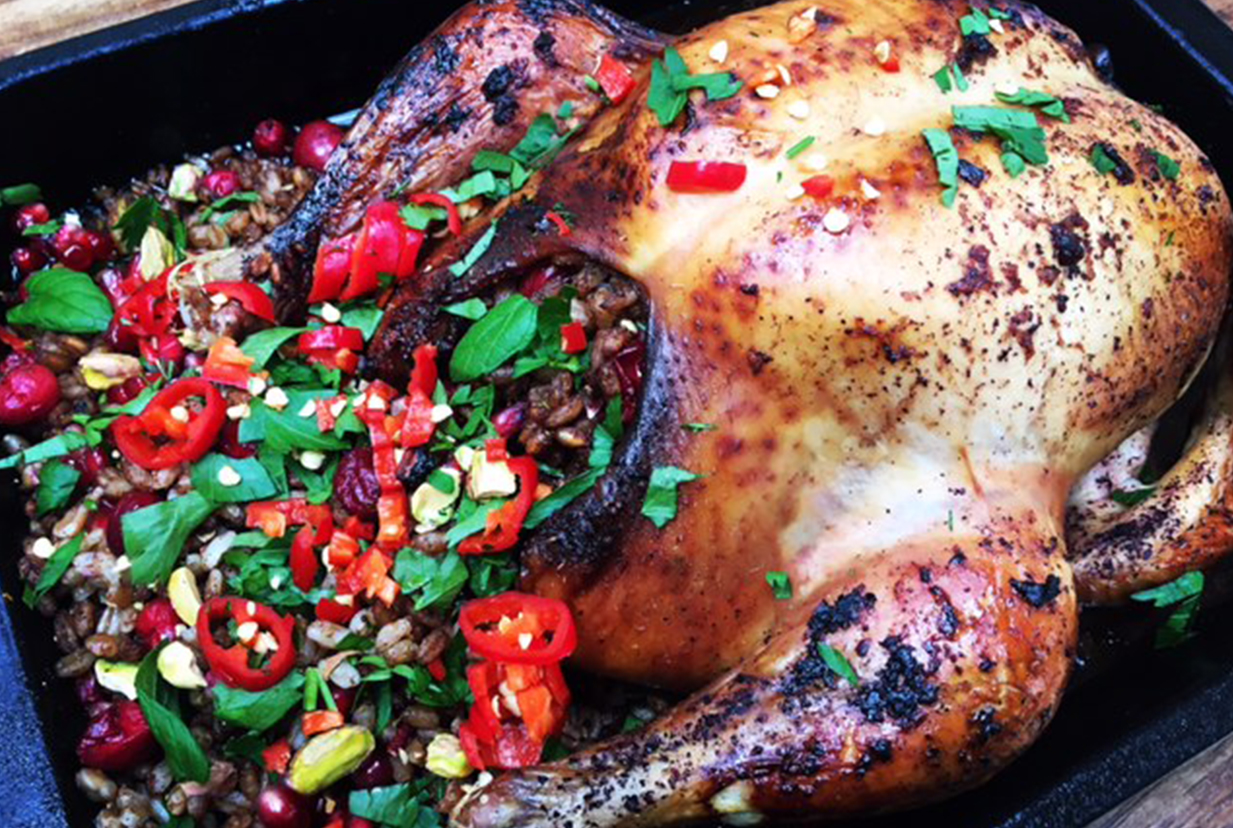 Ingredients
250g spelt grain
1 large chicken (1.7 – 2kg)
2tsp sumac
3tbs pomegranate molasses
3tbs oil
3 garlic cloves
1/2tsp fennel seeds, ground
1tsp ginger
1tsp cinnamon, ground
½ nutmeg, grated
1 orange
50g pistachio nuts, roughly chopped
20g parsley, finely chopped
20g mint, chopped
Handful pomegranate seeds
Extra herbs for garnish
Salt and pepper to taste
Method
Place the spelt in a sauce pan, cover with cold water and boil for 15-20 minutes or until soft but not overcooked.
Preheat the oven to 180C.
Place the chicken on a baking tray and rub with salt, pepper and sumac. Mix the pomegranate molasses with oil and garlic and pour over the chicken.
Mix all the spices together and add to cooked spelt grain,. Grate the zest of the orange, then slice it and add to the mixture. Add the pistachio nuts, chopped parsley and mint, season well with salt and pepper.
Stuff the bird with as much mixture as you can, leave any leftover aside and roast the chicken for 1.5 – 2 hours or till the juices from the legs run clear.
Keep adding about 50-100ml of water for basting the chicken.
20 minutes before the chicken is done, add the remaining spelt into the tray.
Serve with extra pomegranate seeds and garnish with more fresh herbs.
Tips: I used two tablespoons of coconut oil when I started to roast the bird. I added whole cranberries to the mixture, served with cucumber, dill and sour cream dip